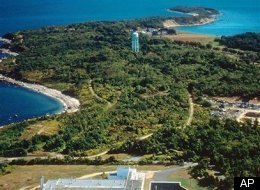 The "Brooklyn Eagle" once characterized Donald Trump's father, a developer there as "Blitzkrieg Trump" over the development of one of the battlegrounds in the "Battle of Long Island" which General Washington lost and was saved from defeat by Glover's Massachusetts's Marbleheaders in the Bronx, giving him enough time to escape to fight another day. After the development a history of the area was handed to the purchasers of the houses, in what was "Paerdegat Woods" it was said. There were perhaps the fallen there. (See also: "Brooklyn 'Forest' is site for homes; Paerdegat Woods in Flatbush Section Giving Way to Trump's Project" NY Times, May 19, 1940)
As once an assigned "Program Director" for the Suffolk County Archaeology Association, in grad school at Stony Brook University on Long Island, I seem recall reading the property on Plum Island, NY used by the government, was first purchased from a DAR woman (Daughters of the American Revolution) 115 or 150 acres? Shouldn't that be a part of the study they will do? I also heard the first military battle of the American Revolutionary War may have been fought there. Perhaps over, like nearby Montauk, to protect from raids on the sheep herds by the hungry British Navy or others. There a muster of men marched in full view around a hill, out-of-sight, reversed jackets, and then marched around the other side of the hill, dissuading, by apparent numbers and "turning-coats", sea-raiding. It was organized by a veteran of the "Green Mountain Boys" and native of Bridgehampton, Captain Hulbert, a design for the US flag submitted in his name, allegedly the 13 stars in the shape of the "star of David" in the blue corner above the stripes, a copy in the Suffolk County History Museum in Riverhead, NY, found however, to have been machine woven in the 19th century, by the Smithsonian Institution. A "Green Mountain" design was of the 13 star-pattern seen overhead in Vermont. American history still records that some design was submitted.
The Suffolk County, New York "seal" (not MA or VA) depicts a large steer. A record book of "cattle brands" now in the State Museum in Albany, legally recorded the brand design from the 1600s until the 1960s. I hope its history will not be ignored. The Rough Riders were in quarantine there on Montauk, after coming back from the Spanish American War. I think the site of the lab had more than just "remote" in it and suspect it may also have historical significance beyond its community restored lighthouse.
Read the Article at HuffingtonPost