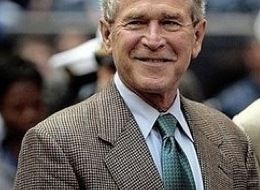 So I think perhaps when the OMB sued for the "energy meeting" with VP Chaney in the early days of the first Bush term, and then President Bush says they can't have that, without perhaps even knowing what was discussed, the "great decider" did us a dis-service. What if they decided, and to support Mr. Baldwin's assertion, the first former President Bush was a "wildcat driller" after WWII, they basically "don't need no stinking maps" or research, just "drill baby drill" to set up Enron as the fall guy. I was working after 9/11 (during anthrax) at Fort Hamilton, Brooklyn, and elsewhere on Federal land, Picatinney Arsenal, NJ, West Point Academy, and in the flooded Bridgewater, NJ solution, digging archeology test holes in the Parade Field behind the headquarters of the Army Corps of Engineers, that they had lost like $17 million in fuel oil at Fort Hamilton, Enron had been their supplier, and had to come up with the funds to cover their energy production. The archeology by the way was to prove or disprove that the previous archeology tests had actually found anything other than fill, nearby also the Robert E. Lee house, who lived there and was a former Commandant of the West Point Academy President Obama spoke at tonight to the Nation. The "Nation" publication has a wonderful open letter to the President that apparently the "dude does not abide by".
The "kicker" to the story is that then President Bush fired the head of the US Army because he sat on the board of Enron, without any "due process" or barely any public interest.
Read the Article at HuffingtonPost
Further:
"I recall the Canadian press, investigating the source of hard drugs in North America, in the "Golden Triangle" in Southeast Asia, implicated people inside the US military, carried on flights by the US Air Force, and received an award for the report. In the Gulf War they also reported the strange occurrence of US ordnance next to one of the burning oil wells set afire in that conflict.
More recently, 1/4 million "ecstasy" pills were intercepted on a US National Air Guard cargo carrier at the Stewart Airport, near Newburgh, NY which recently started commercial flights to Florida, once to be the "fourth" area jetport, connected with high-speed rail, proposed by then Governor Rockefeller to take some of the air traffic from above nearby New York City. Then Senator Hillary Clinton, reviewing the Revolutionary War re-enactors there, reminded the press of the then officers plot, thwarted by General Washington, to make him a king of America. Perhaps why history repeated is often a tragedy?"