City Room – New York Times - "
The statue of a former New York City mayor who played a role in George Washington's presidential inauguration sits largely forgotten on a city island, a casualty, in some ways, of 9/11."
Comment: I'm reminded of a statue found neglected on a rooftop of Antonin Dvorak, moved to Stuyvesant Square, where another former mayor's statue is, Peter Stuyvesant. Nearby, Dvorak wrote the "New World Symphony" in a building slated for demolition for an "AIDS Hospice". The statue was a compromise. No one knows what Nathan Hale looked like, yet his statue was moved out front of City Hall. Why not De Peyster's in its old place, in the northwest, near Broadway and Chambers?
Addenda!?: I recall seeing some pictures of Abraham De Peyster statue elsewhere, other than shown at Hanover Square in the NY Times. It was formally located in Bowling Green as shown in this photo (and others):
Source: Citynoise.org blog:
Old New York in Colour - Part 1 – Downtown
In blog DAG Tech "
The history of Bowling Green, New York City
":
Monuments installed in the park in the 19th century include two fountains (now gone) and a statue of New York' first mayor, Abraham De Peyster by George Bissell, which was moved to nearby Hanover Square in 1976.
Today It's described at the
Green Apple Tour: A History Tour of Lower Manhattan and to Governor's Island
Bowling Green was originally established in 1733 and rented to serve for such purposes as a cattle market. In front of the park is the famous Charging Bull sculpture. The park has a water fountain and plenty of benches and chairs to sit down. This park also able to users who want to connect wirelessly to the Internet for free. www.nycgovparks.org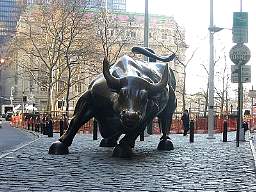 The old Customs House—in 1759 the site of Fort George—is seen from the north through the trees of Bowling Green. Broadway is on the left. The Charging Bull was added in 1989.