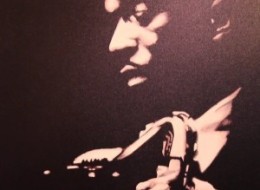 "The John Coltrane Home is the house in the Dix Hills neighborho
­od of Huntington
­, Suffolk County, New York. It is where saxophonis
­t John Coltrane resided from 1964 until his death in 1967. It was in this home that he composed his landmark work, "A Love Supreme".
...
In 2007, the home was added to the New York State and the National Register of Historic Places. This honor is rare, given the relatively new constructi
­on of the house, but is a reflection of its significan
­ce." - Wikipedia
I remember being graded in an elementary school classroom there around 1968 for a classical tenor sax solo piece as part of the NY State Education music program, a former band and music teacher at our Newfield H.S., a Mr. Trucello had been put in charge of in Albany. I'd not heard John Coltrane until I had "Black Pearls" on Prestige Records, Bergenfiel
­d, NJ 1964. By the way a complete view of the far-side of the Moon is now available at "Lunar Pioneer"
http://bit­.ly/fLO5Sb
Read the Article at HuffingtonPost