Community LANDSAT7 (Pseudo Color) Corvo - one of the two most westerly islands of the Azores, Flores the other.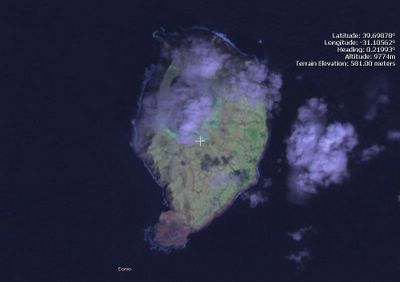 "This is what Jaime Cortesao believes, and he concludes that in 1452 Diogo de Teive reached the Grand Banks of Newfoundland, a distance of 1,450 miles. If this is true, it would make him one of the earliest European discoverers of America. Whichever direction Teive took, the voyage was not a total failure, for on the return passage he discovered Flores and Corvo, the two most westerly islands of the Azores group. Between 1462 and 1487 there were at least eight Portuguese voyages whose primary objective was the discovery of new Atlantic islands." p. 95 "
Phantom Islands of the Atlantic: The Legends of Seven Lands That Never Were
" Donald S. Johnson. Walker and Company New York. c) 1994. First published by Goose Lane Editions in Canada in 1994. Revised edition published in the United States of America in 1996 by Walker Publishing Company, Inc.